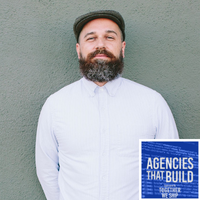 Ran Craycraft is the managing partner at Wildebeest, Wildebeest is a boutique tech & innovation partner for the world's most innovative brands. Wildebeest specializes in innovation, idea generation, and rapid prototyping.
Takeaways 
Having a large firm does not imply that you will do more creative work or devote more time to your clients.

When you are trying to address problems with clients, make sure that creative technology and strategy all have a place at the table.

"I think it's really important to distinguish between when you're doing campaign work, or when you're building a platform, or product." - Ran

When creating products and platforms, keep in mind that your client's success necessitates a holistic strategy.

You must look for ways to enhance the concepts and whatever it is you're building by taking a creative concept and bringing it all together in a truly unique way.
Links
Busted Myths:
 A bigger agency is a better agency.